The Dogs of War
In this issue, we interview Robert Crais, whose new novel, Suspect, is about Maggie, a canine veteran of Iraq and Afghanistan, and LAPD cop Scott James. Maggie lost her handler to an IED in Afghanistan, and Scott lost his partner to gunmen. Both are suffering from PTSD, and are brought together in a K9 unit. The thriller aspect of Suspect is good, but the story of Maggie and Scott is outstanding. Their initial mistrust grows into an unbreakable bond, a journey that will have even the most jaded hearts longing for their own Maggie.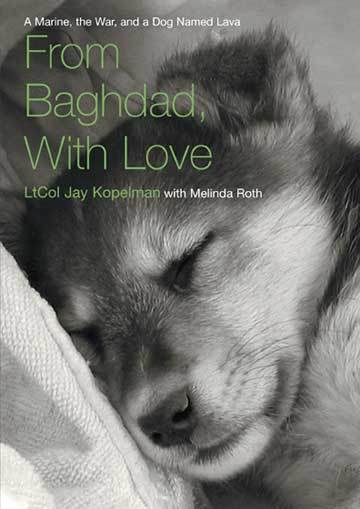 The human-canine bond has been written about ad infinitum; numerous books have focused on the dogs of war--military dogs and rescued dogs. One of the first, and best, is From Baghdad, with Love by Lt. Col. Jay Kopelman (Lyons Press, $14.95), about a puppy, Lava, he rescued and brought home. "I see the fear in his eyes despite the bravado. He's only a puppy, too young to know how to mask it, so I can see how bravery and terror trap him on all sides while testosterone and adrenalin compete... for every ounce of his attention. Recognize it right away." In the midst of the Iraq insanity, Lava's presence at the compound allowed "all humans a temporary exit pass from reality."
Sergeant Rex: The Unbreakable Bond Between a Marine and His Military Working Dog (Atria Books, $15) is Mike Dowling's first-person account of his deployment with Rex in the Triangle of Death south of Baghdad, the vigilance against insurgents and the alternate boredom and action of a war zone. Our review said that it reads like a letter home.
And lest we forget felines, there is No Buddy Left Behind: Bringing U.S. Troops' Dogs and Cats Safely Home from the Combat Zone by Terri Crisp (Lyons Press, $14.95), about Operation Baghdad Pups' mission to rescue stray dogs and cats from the brutalities of war. --Marilyn Dahl, reviews editor, Shelf Awareness