Sweet Indulgence
Holiday over-indulgence may force a cutback on sugary sweets and the need for crash diets. But you don't need to deprive yourself completely. You can still indulge in some delicious dessert-inspired novels without guilt--or calories: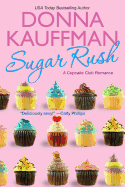 In Sugar Rush, the first installment in the Cupcake Club series by Donna Kaufman, Lani Trusdale walks away from her demanding job in an upscale New York City pastry shop and launches her own cupcake store on a remote island in Georgia. But Lani's dreams of a quiet life honing her baking chops are upended when her former boss, a high-profile TV chef, descends upon the town to woo his protégé by filming a segment of his top-rated cooking show in her cupcakery.
Precise measurements and the scrumptious smells of baking bring calm and order to the frenetic life of Ruth, a middle-aged Minneapolis housewife and mother who is caught in the vortex of her family's struggles in Eat Cake by Jeanne Ray. Taxed by the challenges of an unemployed husband, rebellious teenagers, a live-in mother and the unexpected arrival of a wounded, long lost father, Ruth's daily quest to bake the perfect cake elevates the art (and Zen) of comfort food to a whole new level.
A copywriting job sweetens the life of Molly Hagan, a divorced single mother living in Brooklyn in Vanity Fare: A Novel of Lattes, Literature, and Love. Megan Caldwell's self-deprecating heroine pens clever literary catchphrases like "Much Ado About Muffins" and "A Clockwork Orange Chiffon Cake" for a new bakery located near the New York Public Library. In the midst of pulling together her presentation, Molly gets caught in a romantic tug of war between a sexy British pastry chef and his business partner.
No fat, no sugar, but an abundance of sweetness. --Kathleen Gerard, blogger at Reading Between the Lines