C.S. Lewis and the Inklings
A half century after his death, C.S. Lewis remains widely read and frequently quoted. The recent film productions of three books in his Chronicles of Narnia series have introduced a new generation of fans to the Pevensie children, the White Witch and Aslan, the powerful Lion of Narnia.
British theologian Alister McGrath has written a new, compelling biography of Lewis (reviewed below) that includes a slight rearrangement of the timeline of Lewis's conversion to Christianity, based on his extensive research. While this point is of greatest interest to Lewis scholars, the book offers much for the lay reader of Lewis's work. McGrath presents a fascinating look at a man who embodied deep contradictions, and whose fame as a writer of popular books made him friends as well as enemies in academia.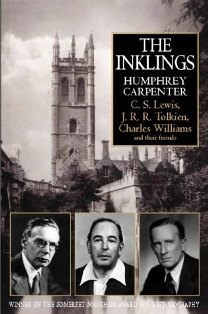 Lewis's most famous friend was J.R.R. Tolkien, who joined forces with Lewis to found the group known as "The Inklings." Humphrey Carpenter brilliantly captures Tolkien's spirit in his meticulously researched study, J.R.R. Tolkien: A Biography (Houghton Mifflin Harcourt, $15.95). A lifelong Oxford resident himself, Carpenter interviewed Tolkien's family and delved into the author's papers to provide a wealth of detail about the man who created Middle-earth. Carpenter also wrote The Inklings, a (sadly out of print) group biography of the informal literary society and their frequent evenings of drink and debate. The Inklings' meetings at the Eagle and Child pub are now the stuff of Oxford legend.
If the recent films of both Lewis's and Tolkien's works have entertained and intrigued you, of course, be sure to pick up the books on which they're based: The Hobbit, The Lord of the Rings and The Chronicles of Narnia. Available in dozens of editions, these enduring works of fantasy reflect the deep erudition--and the whimsy--of their brilliant authors. --Katie Noah Gibson, blogger at Cakes, Tea and Dreams