Further Reading: Small-Town Postmistresses
Post offices in small towns hold many secrets, even in today's digital age. Employees who receive and deliver the mail often learn a lot about their friends and neighbors. This brings a dilemma: Should a postmistress use her knowledge to protect and help her neighbors, or remain discreet, bound by the rules?
Straitlaced spinster Iris James runs the post office in 1940s Franklin, Mass., in Sarah Blake's novel The Postmistress. As the U.S. struggles to stay out of the war in Europe, Iris makes a fateful decision: she chooses not to deliver a letter. When the town's doctor travels to London to lend a hand during the Blitz, he meets American radio gal Frankie Bard. That chance encounter sends Frankie back to Massachusetts with another letter, whose delivery holds profound consequences for her, for Iris and for Emma, the doctor's young wife.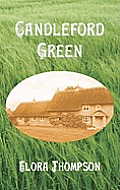 Dorcas Lane, postmistress of Candleford, reigns supreme over her small domain in rural 1890s Oxfordshire. In Candleford Green, the third volume in Flora Thompson's trilogy of autobiographical novels, Lark Rise to Candleford. Laura Timmins comes from the neighboring hamlet of Lark Rise to work for Dorcas and becomes Dorcas's co-conspirator and fellow keeper of secrets. Kind and honorable (if mischievous), they sometimes meddle in their neighbors' lives, with amusing (if occasionally disastrous) results.
In Cathy Kelly's The House on Willow Street , Danae Rahill, postmistress of the small Irish town of Avalon, knows more about her neighbors than most people realize. But Danae is more than willing to protect others' secrets, partly because she's guarding one of her own. When Danae's exuberant visiting niece Mara threatens to breach the walls Danae has kept for 18 years, Danae quails at the thought of being exposed, but begins to wonder if some burdens aren't meant to be shared. --Katie Noah Gibson, blogger at Cakes, Tea and Dreams