Further Reading: Furry, Four-Legged Narrators
In multiple genres, dogs and cats have emerged as credible, likable narrators:
In Love Saves the Day, a novel by Gwen Cooper, a smart, tabby named Prudence tells the story of her owner, Sarah, who has gone missing. Prudence is forced to relocate to the home of Sarah's lawyer daughter and her unemployed husband. Will the feline-averse couple in marital crisis ever accept the love of this abandoned kitty?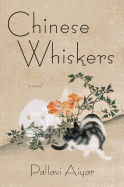 Two cats living in modern-day Beijing narrate Pallavi Aiyar's imaginative novel Chinese Whiskers. Soyabean is a male kitten living in a multi-generational middle-class household, while Tofu, a female kitten, roams the streets, roughing it. How the two cats come to live together is only part of the story, a suspenseful morality tale about the values of "Old China" versus "New China."
Chet, a dog who flunked out of K-9 School, offers a clever point of view as the sidekick to down-on-his-luck private investigator Bernie Little. The two "babysit" a Hollywood heartthrob, a bad boy with secrets, who is filming a blockbuster movie in a sleepy little town in A Fistful of Collars, the fifth installment in Spencer Quinn's humorous Chet and Bernie mystery series.
Children and young adults can experience the perspective of Enzo, a lovable, observant lab-terrier mix in Racing in the Rain: My Life as a Dog, the adaptation of Garth Stein's adult novel The Art of Racing in the Rain. This tender-hearted story teaches valuable lessons about friendship and the choices we make for our lives. Its message speaks to readers of any age.
So whether you're a cat or dog person, enjoy reading general fiction, mysteries or YA/crossover lit, take your pick. Animals, in the hands of the right authors, have become great storytellers. --Kathleen Gerard, blogger at Reading Between the Lines