Writing for Your Life
Natalie Goldberg's Writing Down the Bones (1986) started the obsession with books on writing.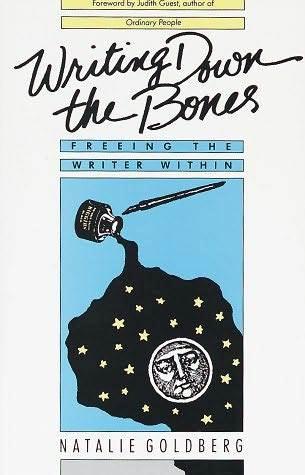 With Bones, Goldberg gave amateur writers--in the true sense of the word, those writing for the love of it--permission to use notebooks and journals to doodle and draw, to dream pies in the sky, to crash and, quite literally, to burn. She encouraged us to use journals to exercise, practice, experiment, hone.
In Bird by Bird, Anne Lamott told us not to leave the house without an index card and a pen in our back pockets--even to walk the dog. She shared E.L. Doctorow's observation that "writing a novel is like driving a car at night. You can see only as far as your headlights, but you can make the whole trip that way." And, in a personal favorite, If You Want to Write, Brenda Ueland advises, "Work freely and rollickingly as though [you] were talking to a friend who loves you."
Natalie Goldberg says, in Writing Down the Bones, "One poem or story doesn't matter one way or the other. It's the process of writing and life that matters." The writers who resonate write about a life that matters. Each of her books builds on this idea. Wild Mind describes living the writer's life. Both Wild Mind and Bones begin with her seven rules for writing, from "1. Keep your hand moving" to "7. Go for the jugular." They can be summed up this way: Do not judge.
Long Quiet Highway describes Goldberg's path to enlightenment with her notebook as her companion. It's about getting the details down honestly and participating fully in the world around her. It's also about her teachers--all of them. So it's logical that her next book would be The True Secret of Writing, her blueprint for a meditative writing retreat between covers. --Jennifer M. Brown, children's editor, Shelf Awareness