Books, Displayed Creatively
When I worked at University Book Store in Seattle, one of my great pleasures was creating table and window displays. Sometimes I'd get burned out after one too many themed displays. I'd start to toy with, say, the Mother's Day table, throwing in a sex manual or carpentry book to leaven the cookbooks and sentimental titles. Without a date-specific theme, I'd sometimes wander even further off the charts, randomly picking a title and proceeding with free association. For instance, a picture book titled Balls would lead to By the Balls then Cake Balls then Ball Four then Four Hour Body then... you get the idea. Or I'd use titles that made a story: Sum It Up: Daring Greatly: Things Fall Apart: Strong at the Broken Places: Unbroken.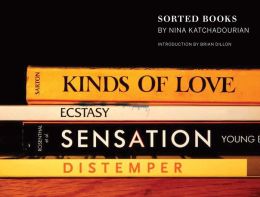 Conceptual artist Nina Katchadourian has done something like this in a clever photography book from Chronicle, Sorted Books (April, $22.95). She has visited libraries in a 20-year project, arranging books into sentences, fragments, jokes, questions. She says that while she's sorting titles, it feels "like a writing project combined with a memory exercise," using spatial, topical and visual recall--a familiar process to booksellers (and anyone who has a bookcase.)
Two books constitute a formal exchange: I Am a Conductor with And do you also play the violin? Or a brief Cliffs Notes: Romeo and Juliet, They Rose Above It, Codependent No More. Advice: The Art of Conversation, Listen Listen Listen. Criticism: Van Gogh, Alone with the Moon, Crackers. Double-take: The Castrati in Opera, The Story of Organ Music. Narrative: Animal Dreams, Secret Gardens, Where the Sidewalk Ends, No Boundary, Where the Wild Things Are.
In addition to the ingenuity and whimsy, bibliophiles will appreciate the spines and the covers--books as tactile, compelling objects, promising worlds of knowledge and enjoyment. And perhaps we'll look at our shelves a bit differently, and start rearranging with a wild vision. --Marilyn Dahl, editor, Shelf Awareness for Readers