National Poetry Month
Since it's National Poetry Month, today's issue is devoted to poetry. We have so many books to share, starting with Follow, Follow (ages 6-up) by Marilyn Singer. Singer writes reverso poems; here, they are about fairy tales. On one page is a free-verse poem; the same poem appears on the facing page, but with the lines reversed from top to bottom, altering meaning, tone and sometimes narrator. Deceptively simple--as are many of the poems in Countee Cullen: Collected Poems, edited by Major Jackson (Library of America). Cullen, a central figure of the Harlem Renaissance, "sought his own brand of freedom in pattern and form." Jackson calls him "a complex and sometimes real virtuoso performer." How plain, yet how profound is a poem Cullen wrote for his grandmother: "This lovely flower fell to seed;/ Work gently, sun and rain;/ She held it as her dying creed/ That she would grow again."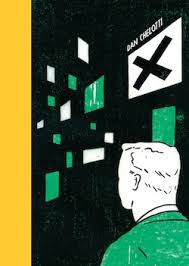 Dan Chelotti's poems in X (McSweeney's) are funny and sometimes mysterious. The narrator in "I Love to Hit Home Runs and Run Around the Bases," says, "I wish I could eat a hot dog/ when I run around the bases./ I wish the loudspeakers/ would play Mozart's Sinfonia/ Concertante in E Flat/ when I run around the bases./ They won't play it." Sartre, "day later sushi," a migraine cure ("The rain says, Listen to Debussy/ go ahead, Debussy will fix you./ But the rain is a liar."), Pavarotti and cheap plastic pumpkins are all part of Chelotti's poetic stew.
Anis Mojgani, a two-time National Poetry Slam champion, has released his third collection of poetry: Songs from Under the River: Early and New Work (Write Bloody Publishing). His poetry is rhythmic and vivid--"I like my eggs scrambled / because I prefer function over form"--and insists on being read aloud.
See our reviews below for more great poetry titles. --Marilyn Dahl, editor, Shelf Awareness for Readers