Caddie-Lit: Reading Books About Reading Greens
When most non-golfers (and, admittedly, a substantial number of golfers) hear the word caddie, I suspect that a scene from Caddyshack naturally comes to mind. For me, it's Carl Spackler (Bill Murray) regaling a young caddie with his epic tale of looping for the Dalai Lama in Tibet:

So we finish the 18th and he's gonna stiff me. And I say, "Hey, Lama, hey, how about a little something, you know, for the effort." And he says, "Oh, uh, there won't be any money, but when you die, on your deathbed, you will receive total consciousness." So I got that goin' for me, which is nice.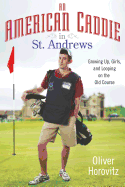 Caddying was my first "real job," for two perfect summers--beginning when I was 14--at a failing resort course. Memories of those times flooded back recently as I read An American Caddie in St. Andrews: Growing Up, Girls, and Looping by Oliver Horovitz, though my experiences have little in common with the author's amusing, insightful and unexpectedly compelling exploration of youth, age, class and the true meaning of the word "vocation."

Maybe this will be my year of the caddie-read. Upcoming books include Loopers: A Caddie's Twenty-Year Golf Odyssey by John Dunn and Walking with Jack: A Father's Journey to Become His Son's Caddie by Don J. Snyder.

There are precedents in this tiny genre. My favorites range from intense (Pete Dexter's novel Train) to funny (Who's Your Caddy?: Looping for the Great, Near Great, and Reprobates of Golf by Rick Reilly) to nostalgic (The Caddie Who Knew Ben Hogan by John Coyne) to poignant (Caddy for Life: The Bruce Edwards Story by John Feinstein).

Caddies also prowl the fairways mischievously in P.G. Wodehouse's tales, of course, though John Updike may have summed up their perspective best in his story "Farrell's Caddie," when wizened Scottish looper Sandy growls: "Ye kin tell a' aboot a man, frae th' way he gowfs." Caddie-lit abounds. So we got that goin' for us, which is nice. --Robert Gray, contributing editor, Shelf Awareness.