For Dad
So many great book ideas for fathers (and not-fathers); check out these, and find more in the reviews below.
Loopers: A Caddie's Twenty-Year Golf Odyssey by John Dunn. An entertaining insider's account about the vocation of caddying and the beautiful grounds where caddies ply their trade.
It's Only Slow Food Until You Try to Eat It: Misadventures of a Suburban Hunter Gatherer by Bill Heavey (Atlantic Monthly Press). Heavey lives inside the D.C. Beltway, not a prime spot for foraging, but he's game, and very funny.
Class A: Baseball in the Middle of Everywhere by Lucas Mann (Pantheon). Part memoir, part small-town history, this is an evocative, funny, poignant chronicle of a season of minor-league ball.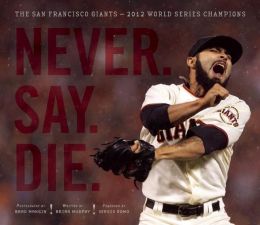 Never. Say. Die. (Cameron + Company). Even if dad's not a San Francisco Giants fan, this book about their 2012 World Series championship is a delight, starting with the cover photo of Sergio Romo icing a win. Fabulous photography by Brad Mangin, text by Brian Murphy--a celebration of a gritty, determined team.
E.B. White on Dogs, edited by Martha White (Tilbury House). White's granddaughter has compiled letters, essays, poems and photographs by a master of prose and lover of dogs.
Everything Sings: Maps for a Narrative Atlas by Denis Wood (Siglio). Wood is a geographer who has created an unusual atlas of his half-square mile neighborhood in Raleigh, N.C. "Lester's Paper Route in Space and Time," "Rhythm of the Sun," "Jack-o'-lanterns"--it's maps, it's art, it's hard to describe, it's fascinating.
Bald Eagle Nest: A Story of Survival in Photographs by Kate Davis (Stackpole Books). Davis photographed a bald eagle pair over a nesting season as they raised their four chicks to adulthood. Stunning birds, stunning photos.
Saving Eagle Mitch: One Good Deed in a Wicked World by Barbara Chepaitis (Excelsior/SUNY Press). In 2010, a Navy SEAL rescued a wounded Steppe eagle in war-torn Afghanistan and decided to find it a safer home--a small act of grace that rippled into others' lives. --Marilyn Dahl, editor, Shelf Awareness for Readers