Authors, Readers and 'Small Shelves of Incident'
What was a life anyway? An accumulation of small shelves of incident. Stacked at odd angles to each other. --from TransAtlantic by Colum McCann (Random House, June 4)

As you read this, I'll be wandering the crowded aisles at BookExpo America in New York City, surrounded by hundreds of authors and thousands of books. Anticipation of this scene, and Colum McCann's fine new book, prompted me to consider the ways in which writers and their readers sometimes meet.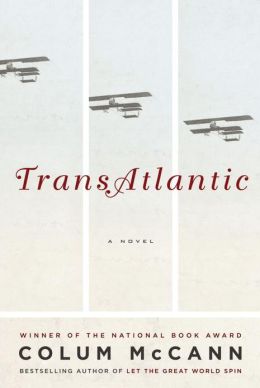 I initially met Colum in 1996 through the pages of his first novel, Songdogs, shortly before we were formally introduced after he read at Misty Valley Books in Chester, Vt. When he signed my copy, he wrote: "Well-met in Chester on a winter evening, with great thanks for your supporting my work. Sláinte."

At that point, I'd been a bookseller (Northshire Bookstore, Manchester Center, Vt.) for a while and knew how easy it is to become jaded regarding author events. Yet I drove those snowy mountain roads across the state that night because I believed, as he recently told the Guardian, that "it's all about language, it's all about how you apply it to the page." And it is:

"I'm so god-damn cold y'all could skate me." (This Side of Brightness)
"Maybe silence has cured him of memory." (Songdogs)
"They were casting with ferocious hope...." (Fishing the Sloe-Black River)

I received a letter from Colum shortly afterward, thanking me for making the trek and concluding: "Regards to all up there and with the hope that sometime we get a chance to have a pint of Guinness together."

And so we did a couple of times, when one of those "small shelves of incident" brought Colum through Manchester. Although I haven't seen him for nearly a decade, our writer/reader conversation continues eloquently with TransAtlantic. Sláinte, Colum. Well-met, indeed. --Robert Gray, contributing editor, Shelf Awareness