Billy Crystal, Still Foolin' 'Em at 65
Our audio book issue leads off with star power. Last Thursday night, actor, comedian, director and author Billy Crystal read six chapters from his upcoming book, Still Foolin' 'Em: Where I've Been, Where I'm Going, and Where the Hell Are My Keys? (Macmillan, September 10, 2013), to a sold-out crowd of 300 at New York University's Cantor Auditorium.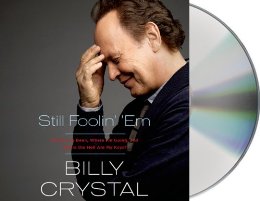 The event, which featured Crystal reading portions of his book from an iPad mounted on a podium, had more of the feeling of a comedy routine than a typical author reading, with Crystal frequently bantering with audience members. The entire reading was recorded; Crystal plans to use the recordings for the Macmillan audio version of Still Foolin' 'Em, to give those chapters a unique stand-up-flavored twist. Tickets for the evening went for $250 and all proceeds from the event will go to NYU's Helen Crystal Scholarship, named for his mother.
Crystal told the audience that Still Foolin' 'Em, which contains his funny, adroit musings on topics such as aging, death, sex, memory and the time he played in a spring training game for the New York Yankees, did not begin as a book. He wrote material as if he were preparing a stand-up act, he said; the more he wrote, the more it took the shape of a book.
The final chapter that Crystal read, about buying a burial plot, contained the night's most poignant and surprising moment. During a touching rumination on his relationship with his wife, Janice, he choked up while saying that he hoped he died first, so that he wouldn't have to go through the pain of missing her. After fumbling the iPad and spouting some colorful language, Crystal continued, and he ended the night by saying that his heaven would be reliving the moment he met his wife for the first time and "starting it all over again." --Alex Mutter