John Sandford: Thrills, Chills and Wit
I'm a big fan of John Sandford's thrillers, both the Lucas Davenport Prey books and the Virgil Flowers novels. After reading the newest Flowers, Storm Front (Putnam), I had the opportunity to ask Sandford a few questions.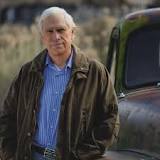 Is he running out of title ideas, after 23 Prey books and 7 Flowers? No, Sandford said, because Storm Front came from his editor, Neil Nyren. "I'm not good at titles--I might go with Virgil Flowers Gets Laid, but Neil might hesitate to consider that... I don't know how Neil finds them; I suspect he'd tell you there's a scientific process, but in reality, he probably sits in his chair and mutters to himself, as if he's tasting different varieties of cheese...."
Virgil is a womanizing fisherman who writes for outdoor magazines and Vanity Fair--interesting variations on the former-military-cop-turned-detective trope. Sandford noted, "Most thriller cops have limited life-styles and strong prejudices. In my contact with real cops, I found that was often not the case--they had extensive hobbies or other interests outside the job." The two characters, Flowers and Davenport, are quite different, "a matter of literary engineering: Davenport is very intense and focused; Virgil is laid back to the point that he forgets his gun. Yet their styles overlap, and Virgil's overall style is just as effective in clearing crimes as is Davenport's."
The Flowers books can be dead funny, a bit more than the Prey series. Sandford said that it's for relief: "I have a hard time wading through a lengthy book that is just one terrible thing after another. I think better writers try to portray their characters as people who might be real--and real people are all over the place, when it comes to what they do in their daily lives… And even in the most intense jobs, funny things happen."
John Sandford's books are eminently enjoyable--characters, tension, plot and wit never let you down. --Marilyn Dahl, editor, Shelf Awareness for Readers