Chip Kidd: 'Failing Better'
For 26 years, Chip Kidd has designed book covers for Knopf--books such as Michael Crichton's Jurassic Park, one of the most recognizable covers in the world. Now he's created a visual guide to graphic design, for kids from 10 to 100, introducing "ideas that I didn't start considering until I was in college," he says. Here he discusses his thoughts about Go: A Kidd's Guide to Graphic Design (just published by Workman and reviewed below). Kidd lives and works in New York City.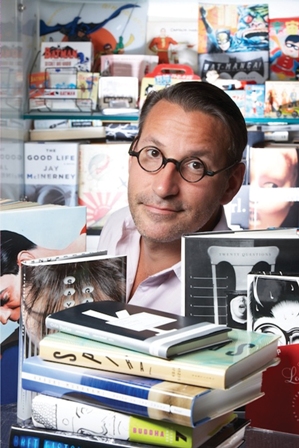 One of our favorite lines in the book is the statement, "Everything that is not made by nature is designed by someone."
Until you have to try to make some of this stuff, there's a tendency to think that it just sort of happens, or that you don't take into account you have to think of it or do it. This is sort of a side tangent, but after I wrote a book, I started thinking in terms of writing and critiquing: I don't think a critic is qualified to do something until they've tried it themselves.
On that same page, you point out that the milk carton's design was inspired by nature.
That's kind of hilarious. Let's make a milk carton that looks like a cow. It's considering the source of the material and following from there logically.
We liked that you admit your mistakes, such as the cover for The Shock of the New by Robert Hughes, the art critic.
My standing lecture for the last year has been called "Failing Better," one thing I didn't get into in my TED talk. That would be a completely different lecture to give, the importance of failure, and the importance of bouncing back from it. You have to look at it as an opportunity to do something better. That's very important in design. --Jennifer M. Brown, children's editor, Shelf Awareness
Click here to read our full interview with Chip Kidd.