Nobel Winner Alice Munro
A group of my writer friends meet every other Thursday for coffee and critiquing. This past Thursday, as each person showed up, there were high fives all around for Alice Munro and her Nobel Prize. My friends all write short stories, and Alice Munro is a star in their pantheon of authors.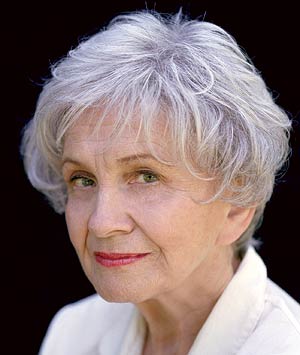 What makes Munro so good? She writes about the quotidian, subtly, with wisdom and psychological intelligence. She has been called a master of the short story. In the Globe and Mail, Jared Bland deconstructed the opening section of her 1982 story "Bardon Bus" in an effort to explain her genius: "She makes indelible characters, yes, but she's just as remarkable for her inventive and crisp language, the remarkable rhythm and pacing of her prose, her wide-ranging and empathetic interest."
In Slate, Lowen Liu picked Munro's five best stories--"Lives of Girls and Women," "The Moons of Jupiter," "The Love of a Good Woman," "Family Furnishings" and "Dear Life"--while emphasizing that it's perfectly fine to start anyplace. Liu added: "The frequent, somewhat silly refrain is that Munro squeezes a novel into each story." True, but there is no apparent "squeezing"; her prose seems effortless. In a 2012 New Yorker interview with Deborah Treisman, Munro said, "For years and years I thought that stories were just practice, till I got time to write a novel. Then I found that they were all I could do, and so I faced that. I suppose that my trying to get so much into stories has been a compensation."
Alice Munro never gets stale with re-readings, so discover her or rediscover her. Buy her books at your local bookseller; a former bookseller, Munro would approve emphatically. --Marilyn Dahl, editor, Shelf Awareness for Readers