'Pass the Knowing Down'
With her insightful, candid book Handling the Truth: On the Writing of Memoir (Gotham), author and teacher Beth Kephart puts herself in the shoes of aspiring writers and lifelong learners. She describes the very first writing class she took and recalls of the experience, "It would make me want to find a way to pass the knowing down." This book suggests that she's found the way.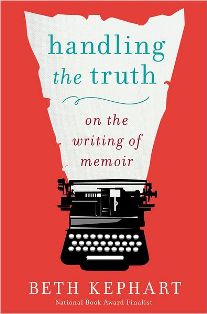 She shares with readers the texts that have taught her how to approach humor (such as Bill Bryson's A Walk in the Woods), childhood memories (The Liar's Club by Mary Karr; Autobiography of a Face by Lucy Grealy) and boundaries: "With Just Kids, Patti Smith teaches how much room memoir can make to preserve the integrity (and privacy) of others," Kephart writes.
Kephart speaks candidly of her own journey, filled with growing pains and difficult life lessons, learned firsthand and by observing her students. Divided into four parts with large themes (e.g., "Raw Material," "Get Moving"), the book also includes subsections that allow readers to dip in and out and circle back as needed. She illustrates her points about perspective or setting with examples from fellow writers.
The first of her five memoirs was A Slant of Sun, a National Book Award Finalist; Kephart has also written young adult novels. She knows the difference between telling the truth and using truth as a kernel for fabricating fiction--and she asks her readers to parse these, too. She's astonishingly well read and explains precisely how each book she cites can serve as a guide along the way. "The job of a teacher, most of all (I think)," writes Kephart, "is to know what others have written and what another must read, right now, this second, in the midst of the long journey." --Jennifer M. Brown, children's editor, Shelf Awareness