Fright Night
With Halloween right around the corner, here are some goosepimply titles for readers from toddlers to teens.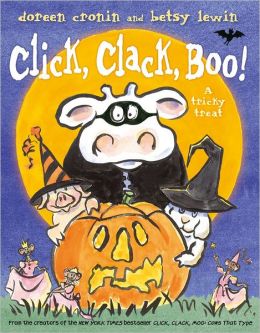 Stephen Savage uses his trademark arresting graphic images to count down in Ten Orange Pumpkins, as a mummy and others make the pumpkins disappear one by one. Farmer Brown may not fancy Halloween, but his animals sure do, in Click Clack Boo! by Doreen Cronin. Betsy Lewin's watercolors portray the cow in a skeleton's cloak and the chicks dressed as ghosts; Duck (we won't give away his costume) precipitates the denouement. The stars of Five Little Monkeys Trick-or-Treat by Eileen Christelow pull a prank on Lulu, their baby-sitter, by switching their costumes, but the trick nearly costs them their treat.
Two standout read-alouds for a light fright: Can't Scare Me! by Ashley Bryan (reviewed below) and Ol' Clip-Clop by Patricia C. McKissack, illus. by Eric Velasquez. Pulling in the arts, the star of Crafty Chloe returns for Dress-Up Mess-Up by Kelly DiPucchio, illus. by Heather Ross, tailor-made for the child who loves to create costumes. Saint-Saëns's Danse Macabre by Anna Harwell Celenza, illus. by JoAnn E. Kitchel, describes how the composer created the perfect homage to the skeletons at rest in the Paris catacombs (includes a CD).
For early chapter book readers, Kylie Jean, Pirate Queen by Marci Peschke, illus. by Tuesday Mourning, proves that girls can pose as pirates, too; and in Captain Awesome Versus the Spooky Scary Noise by Stan Kirby, illus. by George O'Connor, the young caped crusader and his buddy overcome their fears. Joseph Delaney packs a big scare into a brief volume with The Ghost Prison, illustrated by Scott M. Fischer, set in the same world as his the Last Apprentice series and starring Billy Calder, whose first job is as prison guard on the night shift. --Jennifer M. Brown, children's editor, Shelf Awareness