Gift Books: From Grrrrr to Awww
It may be just the first week in November, but it's never too early to think about gift books.
Across the Ravaged Land by photographer Nick Brandt (Abrams, $65) is the final volume in his trilogy (On This Earth; A Shadow Falls) documenting the disappearing natural world of East Africa. It's majestic in both size and scope, and dismaying--10% of African elephants are slaughtered every year. A photo of elephants walking through grass is echoed in another by a line of rangers holding tusks of killed elephants. Mighty lions are juxtaposed with calcified bats and a snake twined on a branch.
Out of the Wild: Zoo Portraits (Glitterati, $60) is Boza Ivanovicis's self-described reimagining of zoo animals around the globe, in stunning black-and-white images. Some animals are lit so only an outline is seen--a mere hint of a black rhino or an okapi; others, like a pensive lemur, are more detailed. All distill the essence of the beast while insinuating their captivity.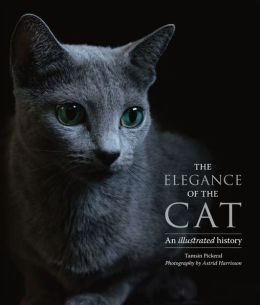 Barron's has published two striking books by Tamsin Pickerel and photographer Astrid Harrisson: The Majesty of the Horse and The Spirit of the Dog. Finally, it has come out with The Elegance of the Cat ($35), and elegant it is--cats definitely have a "pose" gene. Balinese, the longhaired version of Siamese, with silky tails; the rare Kurilian Bobtail from the Kuril Islands; the graceful Turkish Angora; the trainable (!) Toyger--a treat for ailurophiles.
Some of these animals mesh in One Big Happy Family by Lisa Rogek (Thomas Dunne, $15.99 paper) and Unlikely Loves by Jennifer S. Holland (Workman, $13.95 paper)--stories and photos of improbable interspecies friendships: A fox and kittens, a Dalmatian and a spotted lamb, even a boa constrictor and a pit bull. Charming.
And for really charming, check out Much Loved by Mark Nixon(Abrams Image, $17.95). Photos of well-worn stuffed animals that have been "lovingly abused" will melt hearts. --Marilyn Dahl, editor, Shelf Awareness for Readers