Transcendent Plants
Last week we began our annual gift book series with some titles on wild animals (and teddy bears); this week we continue with subjects farther down the food chain, like Fruit: Edible, Inedible, Incredible by seed morphologist Wolfgang Stuppy and visual artist Rob Kesseler (Earth Aware, $35). They use scanning electron microscopy to produce images that are then colored, resulting in striking and fantastic figures. A short-rayed burr daisy looks like a carnival mask, an Antarctic hair grass becomes an aqua and golden fishing lure. Breathtaking.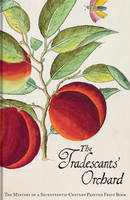 The Tradescants' Orchard: The Mystery of a Seventeenth-Century Painted Fruit Book by Barrie Juniper and Hanneke Grootenboer (Bodleian Library, $65) reproduces early horticultural watercolors with stylized vignettes of little critters. Some of them will be familiar, having appeared on stationery and greeting cards; however, having all 66 original illustrations, along with commentary and history, is a treat.
Another treat for plant lovers is The Plant Hunters: The Adventures of the World's Greatest Botanical Explorers by Carolyn Fry (University of Chicago, $30). From ancient Egypt to 17th-century tulipomania to Joseph Hooker in the Himalaya to modern-day seed stockpiling, this handsome slipcased book is a delight--two-page color spreads plus pockets with pullouts: the oldest known map of Kew Gardens, Hooker's drawings of lichens and algae, Chinese paintings depicting the path of tea. Also from the University of Chicago is Seaweeds by Ole G. Mouritsen ($35). Scientific, yes, but the photos are ethereal. The dark pink porhyra tenera is the money shot. Or maybe the red alga Claudea elegans....
Two years ago Timber Press published Seeing Trees: Discover the Extraordinary Secrets of Everyday Trees by photographer Robert Llewellyn and writer Nancy Ross Hugo. This year he's teamed with Teri Dunn Chace for Seeing Flowers: Discover the Hidden Life of Flowers (Timber Press, $29.95). We all think we know what an amaryllis or geranium or morning glory looks like. Look again. Llewellyn stitches close-ups to reveal delicate depths--through his magic, there is a world in a daylily. --Marilyn Dahl, editor, Shelf Awareness for Readers