Tell Us a Story: New Collections for Your Reading Wishlist
Read more short stories. There, I said it. In our 24/7 plugged-in world, you might think short stories would be more popular than ever, but I'm not so sure they are. Will Alice Munro's well-deserved Nobel Prize change all that? I hope so. I'm no evangelist. Just a reader of stories.

How do I find them? Sometimes it really is as simple as a favorite writer's next book, which happened for me with Jessica Keener, who followed up her novel Night Swim with the new collection Women in Bed ("So she fled as any animal would, out of instinct, toward the scent of nurturing waters and the promise of a sweet tasting hand."). This was also true of Kevin Barry's Dark Lies the Island ("Every line had the dry inflected drag of irony--feeling was unmentionable. We talked about everything except the space between us."). His amazing debut novel, City of Bohane, won the International Impac Dublin Literary Award.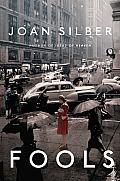 In fact, I often find great collections among prize nominees. Consider George Saunders's Tenth of December, on the National Book Award shortlist; or the NBA longlisted Fools by Joan Silber ("So, in the end, we were hypocrites for kindness. Both of us. Standing with my bouquet of orange blossoms, I thought: I'm happy but I'm in disguise. But probably many people feel that at their weddings.").

And sometimes story collections just find me, as was the case with The Isle of Youth by Laura van den Berg ("I imagined other people discovering the bracelet through the years and me telling each one a different story.") and This Is Paradise by Kristiana Kahakauwila ("But we don't think everything is okay. Something is amiss, muddled. Years have passed since we listened to our dreams, since we were youthful enough to trust them.").

So here's my holiday reading wish for you: Find someone to tell you a few good stories. --Robert Gray, contributing editor