Better Than a Thousand Words
We have still more gift suggestions (beyond here, here, here and here); this time we're highlighting some striking and unusual photography books.
Celebrate work and the worker with Bodine's Industry: The Dignity of Work, edited by Jennifer B. Bodine (Schiffer, $39.99), the daughter of A. Aubrey Bodine, a newspaper photographer with the Baltimore Sun from 1924 to 1970. His images range from a fire-eating clown to moonshine being dumped ("Busting a Still") to a stark photo of lumber being unloaded that mimics a woodcut. The personal in work is the focus for Tadd Myers in Portraits of the American Craftsman (Lyons Press, $29.95). His warm, earth-toned photographs mark the importance of businesses like Hastings Holsters in Mississippi, Rising Sun Jeans in California, Danner Boots in Oregon and the Carousel Works in Ohio.
"A loving look at basketball at its most elemental level" is taken by Robin Layton in Hoop: The American Dream (powerhouse Books, $40). Evocative images of hoops reflected in puddles, lashed to a silo, rimmed in snow, on a sandy beach in a sunset are enhanced by text from the likes of Kevin Durant, Pat Summitt and Gary Payton. Diana Taurasi sums it up: "Every day I couldn't wait for the sun to go down! Just me and my hoop. I can still hear the sounds of love."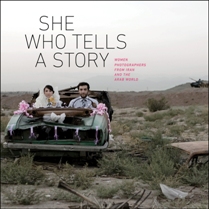 She Who Tells a Story: Women Photographers from Iran and the Arab World (MFA Publications, $40), compiled by Kristen Gresh, introduces the work of 12 Middle Eastern women. Particularly arresting are images by Nermine Hammam, placing young Egyptian soldiers against pastoral postcard landscapes, and melding photos of police brutality with Japanese screens.
A different brutality is seen in Mighty Silence: Images of Destruction: The Great 2011 Earthquake and Tsunami of East Japan and Fukushima by Yasushi Handa (Skira, $75). Photos, both b&w and color, of ruined rice fields, sluiceways that failed to protect against the tsunami, a fuel tank under an orange sky illustrate devastation and, conversely, abstract beauty. --Marilyn Dahl, editor, Shelf Awareness for Readers