The Delight of Meeting Authors
Last week, more than 500 booksellers, along with publishers and authors, converged on Seattle for the American Booksellers Association's ninth annual Winter Institute--three days of seminars, socializing and shoptalk (even more energizing than Seattle's collective euphoria over the Seahawks). Adding to the excitement was the abundance of authors, numbering more than 100. Many of them were on hand Thursday evening to sign books, something I'd grown blasé about--until I walked into the hotel ballroom. I gasped, grabbed the nearest arm and exclaimed, "Look! It's Cynthia Bond!" I sidled over to her table as casually as I could, but then started to gush like a tween at a One Direction concert. Her novel Ruby (to be published by Hogarth in April), the "unforgettable story of a man determined to protect the woman he loves from the town desperate to destroy her," is one of the most stunning books I've read this year--order it now in advance from your indie bookstore.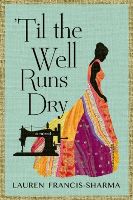 Sitting next to her was novelist Colson Whitehead, who's written a hilarious memoir about playing in the World Series of Poker in Vegas: The Noble Hustle: Poker, Beef Jerky, and Death (Doubleday, May 6)--another book to order now. I eagerly grabbed a copy of Archetype by M.D. Waters (Dutton), a SF/mystery/romance thrill-ride that I had read in one sitting; The Crane Wife by Patrick Ness (Penguin Press), a haunting, magical novel that I challenge you not to love; and one book I haven't yet read, but whose cover hooked me, as a good cover does: 'Til the Well Runs Dry by Lauren Francis-Sharma (Holt, April 22).
While it's not possible for everyone to have such a rich, concentrated experience with authors, it is possible to have a similar one at your local independent bookstore, where everyone can enjoy talking about books, and meeting authors is the name of the game. --Marilyn Dahl, editor, Shelf Awareness for Readers