Romancing the Pie
"We must have a pie. Stress cannot exist in the presence of a pie."
--David Mamet, Boston Marriage
I heard recently that pie was poised to become the new cupcake; for many of us, pie has always been the new cupcake. When I was a child, I used to see semis on the highway with the logo "P.I.E." I didn't know it stood for Pacific Intermountain Express; I thought the cargo was pie, and dreamed about truckers unloading pies at cafes along the highway: blackberry, cherry or my grandfather's favorite, apple.
"Good apple pies are a considerable part of our domestic happiness" --Jane Austen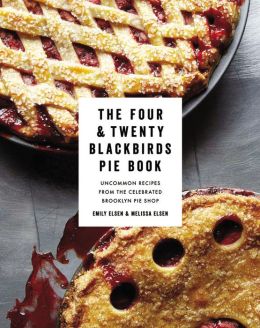 Last fall I met with folks from the publicity department at Grand Central/Hachette. We were chatting about new books, among them The Four and Twenty Blackbirds Pie Book. Sisters Emily and Melissa Elsen opened their pie and coffee shop Four and Twenty Blackbirds,in Brooklyn, N.Y., in 2010, then produced this book. Judging by Grand Central's enthusiasm, both the café and the cookbook are outstanding.
Their fervor for the book is not hyperbolic promo: these people know pie. Jimmy Franco, the director of publicity, met his wife when they were the only pie entrants in an employee bake-off in 1994. Elizabeth made a pecan pie using pecans from her grandfather's childhood home and Jimmy baked an apple pie with local supermarket apples. Bobby Flay was the judge and Jimmy's pie won the contest, but even better, he won Elizabeth's heart. Now that's a pie story. You can create your own pie story with The Four and Twenty Blackbirds Pie Book: Junipear Pie with pears and juniper berries, Black Bottom Lemon Pie, Peaches and Cream Pie, Apple Rose pie with rose water and bitters. National Pie Day was officially yesterday, but we celebrate pie everyday.
"You like pie? I like pie." --Barack Obama
--Marilyn Dahl, editor, Shelf Awareness for Readers