Powerful Images of Women
Tomorrow is International Women's Day. This year's theme is "Inspiring Change"--encouraging "advocacy for women's advancement everywhere in every way [and] challenging the status quo for women's equality and vigilance inspiring positive change."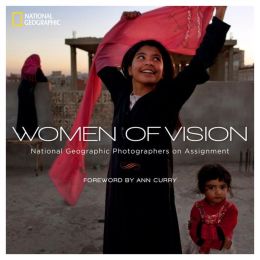 National Geographic has just published Women of Vision: National Geographic Photographers on Assignment ($30), a compilation of images and commentary from 11 female photographers. These women have all challenged the status quo with talent and courage; no longer must they "act like ladies," but have, in the words of Chris Johns, editor-in-chief of the magazine, "explored the world with their cameras, wanting to know. Wanting to see. Wanting to show." And they do, from a bamboo garden at Japan's Kodaiji temple to a despairing Nepali bride being carried to her new husband's village to a very young Georgia beauty pageant contestant in diapers to a leopard in an Okavango Delta baobab tree.
The cover photograph by Stephanie Sinclair is of Nujood Ali, who in 2008, at age 10, did the unimaginable: obtained a divorce in Yemen. Yet the following photographs are of Yemeni child wives--age eight, but married at age six; brides ages 11, 12, 13. Sinclair follows that with "sister wives" at Mormon settlements in Texas and Utah.
Erika Larsen immersed herself in Sami culture in the Arctic Circle for four years to produce stark, lovely images: a man chanting to his reindeer, a Sami boy and his dog, and a herder mourning the loss of two reindeer that starved after locking horns--the frozen thrust of horns against the snow, the red stripe on the man's cloak mimicking the blood on the bodies. Lynsey Addario says, "I try to bring a new perspective to stories," and she does, with a man on a bridge over the Tigris in the early morning mist, feeding gulls. Unexpected and riveting. --Marilyn Dahl, editor, Shelf Awareness for Readers