An Affinity for the Dead
Our recent review of Love Story, with Murders by Harry Bingham, second in a series featuring Welsh Detective Constable Fiona Griffiths, caught my attention. The first thing that made me pause: "She finds a female leg in the freezer of an old woman who died recently. Fi's investigation reveals the old woman was cranky with her neighbors but not that cranky." Hmmm, seems to be some humor in the book (or at least in the reviewer). Later, "a smile is described as 'so thin it was probably manufactured in an Apple design lab,' " so there's fine writing. Then, "the mystery of the body parts parallels Fiona's own struggles with Cotard's syndrome, a rare condition that makes the afflicted think they're dead or unable to feel certain parts of their body."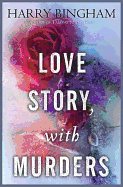 That was the final hook for me, and I happily recalled I had the first book on hand, Talking to the Dead (Bantam, $15).
I've now read them both, and they're excellent, and portend what I hope will be a long and successful series for Bingham and Fiona. Cotard's syndrome, along with an early childhood trauma, affects Fiona in unusual ways--she has problems living on "Planet Normal," sometimes she can't feel her feet, she has a quirky sense of humor, and she has an affinity for and comfort with the dead. Furthermore, her exuberant, protective father owns strip clubs and has a problematic background with Fi's employer.
Bingham's wit and deft descriptions enhance his plots and fascinating, unusual characters. Fiona winds herself in so much woolen outerwear that "she starts to resemble an accident in a knitting factory." In a cottage in a snowstorm, against a gray sky, she notices "the flakes look black. Like imperfectly burned coal ash settling back over a mining village." The trees have "given up color and volume for the purity of shape."
Bingham's third Fiona Griffiths novel is out in the U.K. I'll be begging one from a British friend. --Marilyn Dahl, editor, Shelf Awareness for Readers