Synchronicity
Synchronicity is the coincidental occurrence of events, especially psychic events that seem related but are not explained by conventional mechanisms of causality (especially favored in C.G. Jung's theories). Many authors say the process of writing a novel is filled with synchronicity. It's happened to me, too. So often I thought I'd made something up, only to later discover obscure historical facts backing up my inventions.
Last month, cleaning out the attic, I found my old portfolio, filled with ads I'd written another lifetime ago when I worked on Madison Avenue.
One stopped me cold.
In 1986, I was put on the Charles of the Ritz perfume account. My job, as creative director and copywriter, was to come up with the campaign for a new fragrance called Xia, Xiang. Here's the ad I wrote for the mystical perfume: a gardenia blossom and rose scent, finished off with vanilla, sandalwood and oakmoss:
The Fragrance of the Imagination.
To travel forward to the past.
To allow what is forbidden.
To obtain that which is elusive.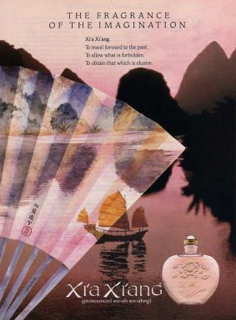 That ad could very well be an ad for my last two novels, The Book of Lost Fragrances and Seduction, or my newest one, The Collector of Dying Breaths [the Shelf Awareness review is here].
That ad, which I wrote when I was 30 years old, decades before I even tried my hand at fiction, perfectly encapsulates the theme of my current novels.
How curious that all these years later, I am writing time-slip fiction and my main character is a perfumer named Jac L'Etoile who moves between the present and the past, between what is allowed and forbidden and what is always elusive.
How curious that the very subject of these books is synchronicity and coincidence. Or perhaps, if you believe in magic, as I do... it isn't all that curious at all. --M.J. Rose, author