In Memoriam: Peter Matthiessen
One day, years ago, I came across a book called The Snow Leopard, and bought it because it sounded exotic--big cats and the Himalayas. I expected, well, snow and leopards. What I got was an unexpected spiritual journey with author Peter Matthiessen, who died on Saturday at age 86; he had been ill with leukemia.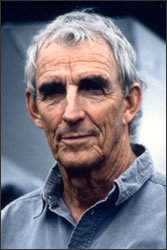 Matthiessen, in addition to writing more than 30 books, was co-founder of the Paris Review (a cover while briefly working for the CIA), a naturalist, explorer, Buddhist teacher and priest, and political and environmental activist in his spare time. Matthiessen accomplished the unusual feat of winning the National Book Award in two categories: in nonfiction, he won for The Snow Leopard and in fiction for Shadow Country (which was originally published in longer form as a trilogy: Killing Mr. Watson, Lost Man's River and Bone by Bone).
"Peter was a force of nature, relentlessly curious, persistent, demanding--of himself and others," said his literary agent, Neil Olson "But he was also funny, deeply wise and compassionate."
Steve Chawkins, in the Los Angeles Times, described him as "both an elegant novelist and a rugged naturalist, a traveler known for his graceful yet spare descriptions of the wildest places on Earth."
Matthiessen's last book, In Paradise, is being published by Riverhead Books today. Riverhead described it as "a novel inspired by a profound experience Matthiessen underwent as a participant in a Zen meditation retreat at Auschwitz in the 1990s, a powerful and uncompromising exploration of the legacy of evil and our unquenchable, imperfect desire to wrest good from it." Riverhead publisher Geoff Kloske commented: "We are deeply honored to be custodians of Peter's final, characteristically bold work of art."
The New York Times has a lengthy obituary, as well as a feature about Matthiessen in yesterday's magazine section that was printed before his death. --Marilyn Dahl