Fundamentals of the Game
A few years ago, I reviewed a book called Baseball Haiku: The Best Haiku Ever Written About the Game. I love baseball, and I love that book because haiku succinctly catch baseball's essence. Now comes The Heart of the Order: Baseball Poems, edited by Gabriel Fried with a foreword by Daniel Okrent (Persea Books). The verses are not haiku, but I set aside my esthetic preference and found some fine poetry.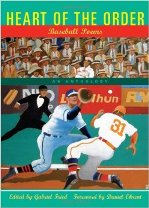 Robert Francis extols precision in "The Pitcher": "His art is eccentricity, his aim/ How not to hit the mark he seems to aim at,/ His passion how to avoid the obvious,/ His technique how to vary the avoidance." Neighborhood baseball as played by "married teenagers working knockout shifts" is evoked by Yusef Komunyakaa in "Glory": "The old deacons & raconteurs/ Who umpired made an Out or Safe/ Into a song & dance routine." Gail Mazur describes, in "Listening to Baseball in the Car," the announcer: "(no, he's a sort of sage, disconsolate/ philosopher of batting slumps/ and injuries)." Lou Lipsitz, in explaining "Why Baseball Doesn't Matter," evokes basketball with more action ("dragonflies in a mating dance"), football ("that heavy military vibe"), steroids, player salaries, greedy owners, but in the end still feels the pull of the game, the season, the mystery--"It's that tonight, in midsummer/ under an inquisitive fraction of a moon,/ the wind pulls a thin blanket of dust/ off the distant fields and carries it for miles."
I have a friend who is passionate about football; she tries to "get" baseball, but simply can't. Perhaps one has to grow up with it--games on the radio, summer nights at the park; baseball is fraught with a nostalgia that other sports don't summon. Or maybe the difference is simply an essence that only poetry can capture. --Marilyn Dahl, editor, Shelf Awareness for Readers