Tom Spanbauer: New Audience & Old Friends
With the recent publication of I Loved You More (Hawthorne Books, $18.95), his fifth novel, Tom Spanbauer takes on a new landscape in publishing while wrestling with history--most conspicuously his own. The novel moves from New York City in the '80s to Portland, Ore., in the '90s, as a love triangle develops between a gay man, his straight friend and the woman who loves both. The book began, Spanbauer recalls, when a straight friend passed away. "I had all this processing to do, and when I couldn't process anymore I started lying." In other words, thinking in terms of fiction, while drawing a line between his own experiences and his characters' lives.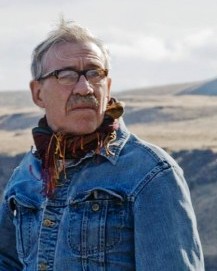 Larger publishers interested in more current stories might have been put off by the time frame of the novel, as Spanbauer mentioned in a Lambda Literary interview, but according to him and Michael Sage Ricci, Spanbauer's partner and publicity manager, the response to I Loved You More from Portland's Hawthorne Books couldn't be better. Working with an independent publisher led them to what Ricci calls "sideways marketing," involving other indie artists and performers to build a broader audience.
Director Mark Levine has already produced the book trailer and, in addition to bookstore appearances, Spanbauer will read at New York City's LGBT Center (May 13). Spanbauer also has big plans for Portland Pride Weekend, including a Queer Lit Happy Hour (June 13) with the likes of Lidia Yuknavitch (The Chronology of Water), and a Big Gay Boat Ride (June 15) with Bianca Del Rio (Rupaul's Drag Race).
At Elliott Bay Book Co. in Seattle last month, Spanbauer treated a packed house to a portion of I Loved You More that serves as an overture to its torrid relationships. Closing the book, he took a moment to regain himself before taking questions. He said, "People ask me why I write, and I tell them it's because I can't cry and speak at the same time." --Dave Wheeler, publishing assistant at Shelf Awareness