TFiOS on the Big Screen
Let's talk about what's on everyone's mind today. Okay? Okay.
The Fault in Our Stars. John Green. The film version opens today.
The book sold more than one million copies at announcement. Green promised to sign all pre-orders. TFiOS ascended to #1 online. The hype grew. And grew. And John Green did not let down his fans, his Nerdfighters (who now include 2.46 million Twitter followers and 1.5 million Facebook friends and 2.1 million YouTube subscribers).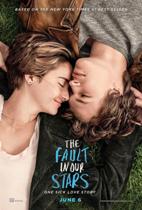 The Circle of Trust. That's where Hazel and Gus and Isaac sit in an elliptical arrangement of chairs, in "the heart of Jesus," in an Episcopal church in Indianapolis, sharing their cancer experiences. It also describes what John Green has built with his fans. A Circle of Trust.
For a different generation, St. Elmo's Fire depicted Wendy Beamish's family whispering "cancer" as if it were a dirty word. John Green takes it on. His characters live real lives, fall in love, fend it off. "I'm a grenade," says Hazel. "At some point I'm going to blow up and I would like to minimize the casualties." And yet, there they are, Hazel and Gus in Amsterdam, in Anne Frank's house, kissing and quoting Wallace Stevens. Real people laugh their way through serious situations, risk pain to experience joy, find themselves wittier, wiser, quicker to laugh when they fall in love. That's what Hazel and Gus do.
The Fault in Our Stars was published on January 10, 2012. A year later, John and Hank, his VlogBrother and cofounder of the Nerdfighters, took over Carnegie Hall for "An Evening of Awesome." Some 2,800 teens lined up around the block. Tonight, we'll see Shailene Woodley play Hazel Grace Lancaster, and Ansel Elgort as Augustus Waters. TFiOS will top box-office ticket sales. And once again Hazel and Gus will remind us to laugh and live life to the fullest, for as long as we can. Okay? Okay. --Jennifer M. Brown, children's editor, Shelf Awareness