A Dose of Dystopia
Think dystopian novels are played out? Think again. Some authors are doing incredible things in this genre, inventing worlds strikingly like our own and yet terrifyingly different, worlds that capture the imagination in new and interesting ways. And while we wait eagerly for the final volume in Justin Cronin's Passage trilogy, a dose of new dystopia can't possibly hurt.
Edan Lepucki's California made headlines when Stephen Colbert urged his viewers to make it a bestseller in the midst of the Amazon-Hachette battle. And it worked! Lepucki's novel takes place in a California devastated by natural disasters, with a cast of characters aiming to build a utopian society, and is complex, multilayered and downright compelling.
Where Lepucki's characters aim to build a utopia, the people in M.R. Carey's The Girl with All the Gifts just want to survive. Cast out of their secluded barracks after an attack by a rebel faction, unlikely compatriots--a handful of soldiers, a teacher, a doctor and a young girl named Melanie--flee across what was once England, hoping to find refuge near the former London. The only catch: they have to avoid herds of "hungries" along the way. Yes, it's a zombie novel, but it's like nothing you've ever read.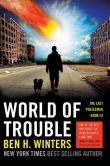 Ben H. Winter's Last Policeman trilogy, which culminates in World of Trouble, takes a different tack, giving us a world that is not yet ruined by disaster--though it's due to be struck by a meteor in less than a year. Some people "go bucket list," running off to fulfill their wildest dreams, some loot, some go to work everyday. But police are no longer available to patrol, engineers no longer available to maintain roads, tech companies no longer available for Internet service. Against this pre-apocalyptic background, Winters sets a series of whodunit mysteries that prove to be more about the philosophical and moral implications of the coming end of the world than who actually did it--though that doesn't stop Detective Hank Palace from trying. --Kerry McHugh, blogger at Entomology of a Bookworm