'Charlie and the Chocolate Factory' at 50
Roald Dahl's Charlie and the Chocolate Factory has become a staple of childhood, whether a child's first encounter is through the book or the two film incarnations. British journalist Lucy Mangan, with her new book, Inside Charlie's Chocolate Factory: The Complete Story of Willy Wonka, the Golden Ticket, and Roald Dahl's Most Famous Creation (Penguin, $19.99, paperback), takes readers inside the creation of the novel, the author's personal triumphs and tragedies along the way, its adaptation into film and the reactions of the public.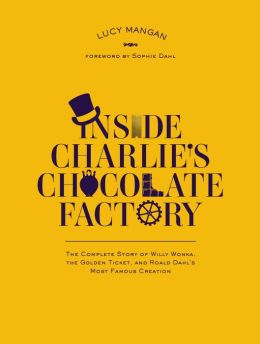 The book begins with a touching foreword by Roald Dahl's granddaughter Sophie Dahl (daughter of his daughter Tessa) and her recollections of dining at his table. "There was nothing more magical... than the Red Tupperware Box that appeared at the end of a meal, heralding the most important and longed-for bit," writes Sophie Dahl, "chocolate." A love that Sophie and her grandfather shared, and surely the genesis for an entire novel devoted to chocolate. Mangan writes that while Dahl's first book for children, James and the Giant Peach (1961), took two years to write, Charlie and the Chocolate Factory (1964) took much longer. Soon after turning in a first draft of Charlie in December 1960, Dahl's son, Theo, had an accident and developed hydrocephalus (when spinal fluid accrues around the brain). Dahl, together with Theo's neurosurgeon and an engineer friend, invented a new and better shunt with which to drain the fluid. By the time they perfected it, Theo was out of danger, but it helped thousands of children, according to Mangan. In the autumn of 1962, Dahl's daughter Olivia died from an outbreak of the measles.
Yet so much humor comes from a man so blighted by sorrow. Mangan reproduces manuscript drafts, includes family photos, film stills, the many iterations of Charlie's covers and more. Like chocolate lovers, fans of the book and film(s) will find much to savor. --Jennifer M. Brown, children's editor, Shelf Awareness