Hitting the Book Club Mark
A recent novel, The Love Affairs of Nathaniel P. by Adelle Waldman (Picador, paperback), has been evoking strong reactions, with a title character described by one reader as a "somewhat arrogant" intellectual who "has studied feminism in a classroom and thinks he gets it."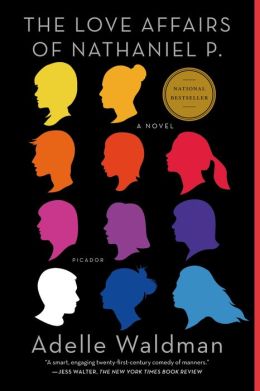 Stephanie Valdez, co-owner of Community Bookstore in Brooklyn, N.Y., says, "The best book club books provoke nuanced, substantive conversation, and Love Affairs hit that mark. We debated whether Nate was sympathetic, and whether that mattered. Opinions were varied and unpredictable, and did not split along gender lines or age groups."
Susan Coll, events and programs director at Politics & Prose Bookstore in Washington, D.C., said the store had a great event with the author; Coll was "struck by the number of young men in attendance, and by how many of them lined up at the microphone eager to ask questions, which seemed a bit of an anomaly for a novel about relationships. The book is so sharply observed that it feels like an anthropological study. I think that's part of what will be good fodder for book groups. Are Waldman's observations about men reliable? Is this book too Brooklyn-centric, or is this the way of the dating world? Is Nate a misogynist? I think Waldman has touched a collective raw nerve about male behavior."
At Brookline Booksmith, in Brookline, Mass., Natasha Gilmore and Jamie Tan noted that "Nate P" generates a lot of discussion. Gilmore added, "It's a perfect book club book--it's not terribly long, and a strong reaction to a book or character provokes more discussion than general kinds of comments. Why do we hate Nathaniel so much? Why is our reaction so strong? Is there something about him that we see in ourselves or people close to us that makes us so crazy?" Tan said, "People are coming to this book with all sorts of experiences. Single, married, looking. I'm fascinated by how people read Nate--terrible, sympathetic, understandable, attractive--and how much people insert themselves into each of the characters in the book." --Marilyn Dahl, editor, Shelf Awareness for Readers