Conquering the Universe
When my husband and I got married, he had little to no opinion about the wedding planning. There were two items on which he wouldn't budge, however, both related to Star Wars: the wedding cake topper (Han and Leia) and the music that played as we entered the reception (Main Theme). Since then, we've amassed quite the collection of Star Wars goodies, including a mass of books that resides between some awesome Star Wars bookends: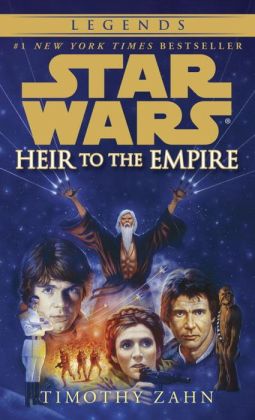 Heir to the Empire by Timothy Zahn: The Expanded Universe (EU), as the collection of books, TV series and games that accompany the movies' story is known, includes a staggering array of Star Wars novels. For anyone uncertain of where to dive into this universe, Timothy Zahn's Thrawn trilogy is worth checking out. Heir to the Empire is set five years after Episode VI, and the trilogy as a whole set the stage for the continued expansion of the EU.
William Shakespeare's Star Wars by Ian Doescher: Less serious, but still just as much fun, are the myriad books that riff on the Star Wars theme: Doescher's novel presents the story of Episode IV in iambic pentameter; follow-up titles (The Empire Striketh Back and The Jedi Doth Return) move through the original trilogy in the style of the Bard.
How Star Wars Conquered the Universe by Chris Taylor (see our interview below) is the most recent addition to our shelves, and one that should quickly find its way into the hands of any fan at any level, from the newest Star Wars lover to a card-carrying member of the 501st Legion. Taylor's account is packed with trivia, history and anecdotes about Star Wars and how it has been shaped by its immense body of fans. Perfect while we wait with bated breath to see what Episode VII will deliver. --Kerry McHugh, blogger at Entomology of a Bookworm