Haunted Houses
A house is normally considered a safe place. In fiction, however, when a house has creaky stairs, rattling shutters, dark attics and basements and trapped secrets that embody the shadowy essence of unnerving spirits, scary becomes even scarier--especially on Halloween.
Shirley Jackson paved the way with her terrifying 1959 novel, The Haunting of Hill House, where four people investigate an 80-year-old house filled with spirits and other unexplained events. (For more about Jackson, see "Rediscover" below.) Richard Matheson expanded that premise in Hell House (1971), where a physicist and two mediums examine a spooky shuttered house in Maine presumably haunted after serving as a domicile for decadence, drugs and alcohol.
The unifying elements of haunted house novels--past and present--seem to be long-buried secrets, demons from the past that need to be confronted and escalating suspense.
This House Is Haunted by John Boyne is set in a country estate in 1860s Norfolk. This Dickens-inspired story centers on a governess who cares for two seemingly parentless children and a malign, supernatural presence that taunts them.
An old carriage house on a sprawling estate invigorates Rebecca Makkai's The Hundred-Year House, where a young couple faces unexpected rumors of buried bodies, family mysteries and the presence of a ghost immortalized in a prominently displayed portrait.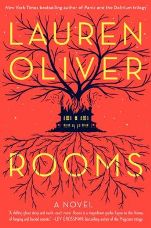 Long-dead, lingering spirits--former residents of an old country house--jostle with an estranged, contemporary family, heirs who have come to sort through the detritus of their departed patriarch in Rooms, an imaginative, explosive story by Lauren Oliver.
In A Sudden Light, Garth Stein has crafted an atmospheric ghost story set in a rambling Pacific Northwest ancestral estate. This epic tale is part family saga and part mystery, infused with secrets, curses, dark familial legacies and a tragic love affair.
While jack-o'-lanterns, bats and witches are all symbols of Halloween, it's the haunted house, where ghosts and a fear of the unknown collide, that keeps readers captive to the page! --Kathleen Gerard, blogger at Reading Between the Lines