Taking 'From the Shelf' Literally
If I were still a bookseller, I'd happily place the six books on my "reading now" shelf in your hands and say, "You've got to read these!" All are from relatively small publishers, adding to that intoxicating sense of discovery we know so well as readers:

Yasushi Inoue's The Hunting Gun, translated by Michael Emmerich (Pushkin Press), elegantly portrays the dangerous, irresistible complexity of illicit love (and its aftermath) in letters from three women--a lover, her daughter and the abandoned wife.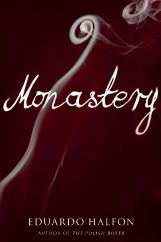 Guatemalan author Eduardo Halfon's novel Monastery , translated by Lisa Dillman & Daniel Hahn (Bellevue Literary Press), features the narrator of The Polish Boxer, one of my favorite books in 2012. His intriguing story continues. "But words are not sharks," he observes. "Or maybe they are."

In Bridgett M. Davis's haunting novel Into the Go-Slow (Feminist Press at CUNY), Angie is nearly consumed by the irresistible flame that was her older sister's life and death years before. From Detroit to Lagos, Angie retraces her sister's footsteps to find her own path.

A search for the perhaps mythical lair of Chinese poet Han Shan is the subject of James P. Lenfestey's Seeking the Cave: A Pilgrimage to Cold Mountain (Milkweed). The ancient poet set the challenge himself: "Men ask the way to Cold Mountain/ Cold Mountain; there's no through trail."

"A memory so present that it resembles oblivion," Imma Monsó writes in A Man of His Word, translated by Maruxa Relaño & Martha Tennent (Hispabooks). In this beautifully conceived memoir about the sudden loss of her husband, she observes that "you write to discover what the next step will be."

While I confess that Expect Delays (Coffee House, Nov. 11) was my first encounter with Bill Berkson's poetry, I'm pleased my late discovery will now be rewarded by his many books: "I like to have a little secret at the end of my poems,/ The way nothing is ever finished."