Gift Books: Inspiration
The story of Louis Zamperini's life, Unbroken, in addition to being a bestselling book, looks to be a big movie, opening on Christmas. In Don't Give Up, Don't Give In (Dey St., $22.99), Zamperini, with David Rensin, wrote about the values and lessons that upheld him, concluding, "I'm a thankful citizen of America who just wants to be remembered for his charitable heart."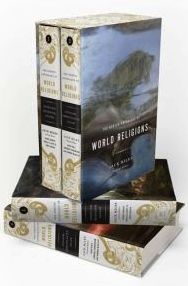 Different, more interactive inspiration can be found in John Minford's new translation of the I Ching (Viking, $39.95). This new rendition of "the oldest extant book of divination," with commentary, is said to surpass the classic Wilhelm-Baynes translation. Jack Miles is general editor for The Norton Anthology of World Religions (Norton, $100), a hefty, boxed two-volume work. Hinduism, Buddhism, Daoism, Judaism, Christianity, Islam and more are covered in more than 4,000 pages--sacred text, poetry, hymns, writers who are believers or skeptics--an outstanding compilation.
In 1974, poet and essayist James P. Lenfestey was given a copy of Cold Mountain: 100 Poems by T'ang poet Han-shan, and thus began a journey in search of the actual Cold Mountain Cave. The result is Seeking the Cave: A Pilgrimage to Cold Mountain, a beautifully crafted volume of personal discovery, travel and poetry, from Milkweed Editions ($24).
Some 600 women contributed writings and photos to Women in Clothes (Blue Rider Press, $30). How do clothes define their lives or express their values? Dipping into the book any place provides much for pondering, connecting, reevaluating. Roxanne Gay writes, "I'll stand before my closet and look at all the clothes I'm too shy to wear, and pretend for about three minutes I might do something different, and then reach for one of the ten or so outfits I wear regularly." A companion book is A Bunch of Pretty Things I Did Not Buy (Penguin, $18), Sarah Lazarovic's diary of going on a buying hiatus--she has advice for purchasing more deliberately and looking at "stuff" in a healthier way. --Marilyn Dahl, editor, Shelf Awareness for Readers