Gift Books: Last but Not Least
This gift book column, being the last of 2014, is a crush of good books. If we just had a few more weeks (like seven or so) till Christmas, but no...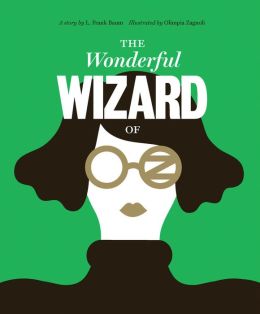 Jane Austen's die-hard fans will want Jane Austen Cover to Cover (Quirk Books, $24.95)--200 years of covers beginning in 1811, ending with movie posters and foreign editions. Rockport Publishing, known for design books, has come out with four illustrated classics--clever, modern, hip; our office favorite is The Wonderful Wizard of Oz ($25), illustrated by Olimpia Zagnoli. Also available: The Adventures of Sherlock Holmes, Grimm's Fairy Tales and Edgar Allan Poe: Stories and Poems ($25 each).
An intriguing "visual memoir," Vajram Muratyan's About Time (Little, Brown, $22), is a graphic art exploration of time and memory that is original, lovely and invites you to slow down and think about how precious minutes are spent. If you want to spend some of your minutes being an amateur art critic or keeping kids happy on road trips, Lonely Planet's Instant Expert ($19.99) is the book to get--a visual guide to skills you either have always wanted, or didn't know you wanted until now. But being an expert doesn't always work out, as seen in Inventions That Didn't Change the World by Julie Hall (Thames & Hudson, $30). An "improved" machine for cutting turnips, a complicated apparatus for scoring lawn tennis, and artificial leeches are just a few of these bizarre Victorian inventions.
Some photography books that are simply stunning: Melting Away: A Ten-Year Journey through Our Endangered Polar Regions by Camille Seaman (Princeton Architectural Press, $55)--icebergs, glaciers, land and fauna as may never be seen again; National Geographic: The Covers, curated by Mark Collins Jenkins ($50), with the stories behind the photos; and Galaxy: Mapping the Cosmos by James Geach (University of Chicago Press, $35), sublime photographs that will fill you with awe. --Marilyn Dahl, editor, Shelf Awareness for Readers