In Memoriam
As the year comes to an end, we'd like to honor a few of the authors we lost in 2014.
Former U.S. poet laureate Mark Strand, "whose spare, deceptively simple investigations of rootlessness, alienation and the ineffable strangeness of life made him one of America's most hauntingly meditative poets." He was named poet laureate in 1990 and won the Pulitzer Prize for Poetry in 1999 for Blizzard of One.
Novelist Kent Haruf, who wrote quiet, moving novels that take place in the fictional town of Holt, Colo. His novel Plainsong (1999) was a finalist for the National Book Award, and his most recent book, Benediction (2013), was on the shortlist for this year's Folio Prize.
Zilpha Keatley Snyder, who wrote nearly 50 books, including The Egypt Game (1967). The New York Times described her as having "mined memories of little demons at the foot of her childhood bed to spin tales of wonder, mystery and suspense that beguiled two generations of children and young adults."
Pulitzer Prize-winning biographer and political scientist James MacGregor Burns, "who wrote voluminously about the nature of leadership in general and the presidency in particular." He wrote more than 20 books, including Roosevelt: The Soldier of Freedom (1970), which won both the Pulitzer and the National Book Award.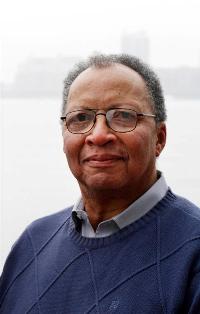 Myers
Walter Dean Myers, beloved and deeply respected children's book author. In a career spanning over 45 years, he wrote more than 100 books, including two Newbery Honor books, three National Book Award finalists and six Coretta Scott King Award/Honor-winning books.
Memoirist and poet Maya Angelou, "whose landmark book of 1969, I Know Why the Caged Bird Sings--a lyrical, unsparing account of her childhood in the Jim Crow South--was among the first autobiographies by a 20th-century black woman to reach a wide general readership."
P.D. James, the beloved mystery author and creator of Commander Adam Dalgliesh and Cordelia Gray, who famously said, "When I first heard that Humpty Dumpty fell off the wall, I immediately wondered: Did he fall--or was he pushed?"