In Memoriam: Robert Stone, 1937-2015
Robert Stone, who won the National Book Award for Dog Soldiers in 1975, died on January 10 of chronic obstructive pulmonary disease, the New York Times wrote. He was 77.
Besides Dog Soldiers--which was made into the movie Who'll Stop the Rain starring Nick Nolte (and featuring the Creedence Clearwater Revival song)--his works include A Hall of Mirrors, A Flag for Sunrise, Outerbridge Reach, Damascus Gate, Fun with Problems and Death of the Black-Haired Girl. He also wrote a memoir, Prime Green: Remembering the Sixties about his time with Ken Kesey's Merry Pranksters. He was a two-time finalist for the Pulitzer Prize.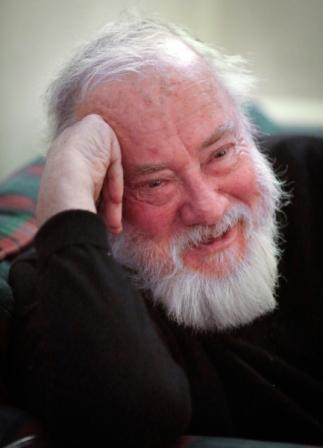 photo: Bebeto Matthews/AP
Noting that Stone lived for a time in an orphanage and was a "rebellious teenager" who was kicked out of high school before joining the Navy, the Times wrote that Stone "drew on his hardscrabble upbringing in his work, where war served as a principal metaphor for human life. A two-month stint in Vietnam for a British journal in 1971 served as the inspiration for Dog Soldiers, and A Flag for Sunrise focused on characters whose lives collided in a Central American republic modeled on Nicaragua."
In a remembrance in the New Yorker, author Madison Smartt Bell wrote in part, "Stone never took anything for granted, in life or in art. The dark side of American dreaming always focussed his attention; a Stone character has to take a long walk through the valley of the shadow in order to earn a return to the light."
Robert Stone won a special place in our hearts at an event in the mid-1970s when, after reading from Dog Soldiers, he deftly and amusingly handled some needling questions from a member of the audience. At one point, the questioner suggested that in his work, Stone hadn't quite grasped "the bull by the horns." Stone gazed at him and, after a lovely pause, said, "It's your bull." --John Mutter