Presidential Books
With President's Day next Monday, we celebrate with a few of our favorite tales of the country's leaders.
Dear Mr. Washington by Lynn Cullen, illustrated by Nancy Carpenter, imagines what the relationship between George Washington and his portrait artist's family might have looked like, in a playful mash-up of the "Rules of Civility and Decent Behavior in Company and Conversation" that Washington purportedly held dear. Gingerbread for Liberty! by Mara Rockliff, illustrated by Vincent X. Kirsch, stars a baker who allegedly came to George Washington's rescue when his soldiers threatened defection due to the terrible food during the American Revolution.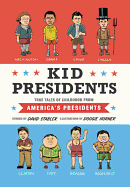 Rutherford B., Who Was He? by Marilyn Singer, illustrated by John Hendrix, uses one poem to introduce each president, offering key facts and varying the mood to reflect the times (Rutherford B. Hayes, incidentally, signed into law a remembrance of Washington's birthday, the first incarnation of Presidents' Day, which now honors both Washington and Lincoln). In Kid Presidents: True Tales of Childhood from America's Presidents by David Stabler, illustrated by Doogie Horner, the author organizes stories about the presidents' youth into sections such as "After-School Activities"--tales of them as pranksters--and "Hardly Working," about the various jobs taken by would-be presidents to earn spending money.
Two standout picture book biographies by Maira Kalman focus on revealing details for Thomas Jefferson and Abraham Lincoln in Looking at Lincoln. Kalman zooms in on the kinds of quirky trivia that kids will devour: vanilla cake was Lincoln's favorite, and he always had an apple on his desk--though "he was often too busy thinking to eat"--and with his hat on, Lincoln was seven feet tall. Older readers will devour Russell Freedman's Newbery-winning Lincoln: A Photobiography and The Lincolns: A Scrapbook Look at Abraham and Mary by Candace Fleming. Happy Birthday, George and Abe! --Jennifer M. Brown, children's editor, Shelf Awareness