No Hearts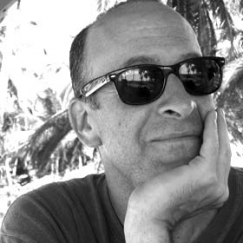 Seth Greenland
As a kid, I hated Valentine's Day. It forced me to consider the exact nature of my romantic situation. Let me take you back to Mrs. Nichtauser's fifth-grade class, the morning of February 14th. Ten-year-old me is sweating in anticipation (February, mind you. Sweating!). I was smitten with a classmate, Tina, and consumed with whether she would present me with a Valentine's Day card. That we both were in the advanced reading group and loved The Secret Garden was, to me, reason enough to believe we would spend our lives together.
Tina had another idea: Bob (Bob's literary tastes were limited to Young Reader biographies of football players). Disappointed and depressed, I stared at the clock until recess when I intended to caper and strut with such panache that Tina would immediately see the error of her ways, abandon Bob, and run across the playground to plant a kiss on my diffident lips. This did not happen, either.
You might reasonably ask, had I done anything to earn her love? Of course not. But it was Valentine's Day, a time of great possibility, and it seemed logical for my pre-adolescent self to wonder: Why not me?
Much like New Year's Eve (another holiday I can do without), Valentine's Day creates a set of unreasonable expectations. If you're not in love, you're cast as some kind of loser, and an entire day devoted to the exaltation of romance is like having that love-free status tattooed on your forehead. Much of humanity is in this pickle at some point. The general disappointments provided by our clumsy attempts at love are one of the reasons for the enduring popularity of love stories. There's something comforting about the amorous travails of others.
I met my wife in 1987. I still love her. I still hate Valentine's Day. --Seth Greenland
Greenland is a novelist, playwright, and screenwriter; his new novel is I Regret Everything: A Love Story (Europa Editions, Feb.).