A New Approach to Clutter
I recently read a book that's been selling like hotcakes: The Life-Changing Magic of Tidying Up: The Japanese Art of Decluttering and Organizing (Ten Speed Press). I'd seen articles about the author, Marie Kondo--the New York Times called her "a kind of Zen nanny"--and heard raves about the book from friends. I love the idea of tidying up, but my method has relied on neat stacks of things and keeping all my black clothes together. But the closet is full, and I sort and re-sort piles until, manically, I toss out six months of New Yorkers, recipes and curling Post-Its. Enter Marie Kondo.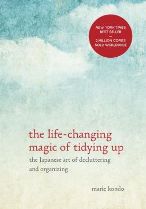 At first, when I read that I'd need a quiet space (no music?!) to evaluate things, because "noise makes it harder to hear the internal dialogue between the owner and [her] belongings," I thought it silly. But, Kondo says, our rational judgment gets in the way of selecting what to discard; we should keep only what brings us joy. We can consider things like those too-tight shoes (but gorgeous and marked down three times!) as contributing to our understanding of ourselves, and they now can be pitched (but first, thanked). I thought, "Okay, worth a try."
Too woo-woo for you? Try this: put every item of clothing you have on the floor. Then start choosing "with love" and look for that spark of joy. Contrast this with opening a drawer and tidying what's in it--you may not discard anything; you'll just straighten. So place the contents on the floor and see what happens. Magic.
It's not just about clothes. Or books. Or photos. Or pots. Ultimately, it's about putting your house in order to discover who you really are, what you really want to do. "What you want to own is actually the question of how you want to live your life." Balanced? Or buried, physically and mentally, under superfluous things? Start tossing--the floor is right there. --Marilyn Dahl, editor, Shelf Awareness for Readers