Ross Macdonald: The Joy of Mysteries
Years ago, when I was in college, I worked at University Book Store in Seattle (little knowing that bookselling would become a career). My respected mentor was a woman named Marcie Kembel--often a strict taskmaster, but warm and funny. One day, I was shelving Ross Macdonald's final Lew Archer book, The Blue Hammer, and mentioned to Marcie that it was the New York Times Book Review cover piece, dismissively wondering why the vaunted Times would allot so much space to a mystery. Marcie called me on my snobbery, and challenged me to read it and report back to her. I did, and I was awestruck. This was what I had been missing by not reading mysteries?! Hammett and Chandler and Doyle followed; I was hooked for life. (I was also more wary of making judgments, at least literary ones.)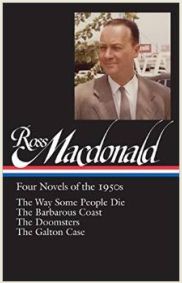 Now I can revisit one of the finest hard-boiled mystery authors with the Library of America's publication of Ross Macdonald: Four Novels of the 1950s, containing The Way Some People Die, The Barbarous Coast, The Doomsters and The Galton Case. Robert B. Parker wrote that Macdonald, "in his craft and integrity, made the detective form a vehicle for high seriousness." Macdonald also inspired later writers with his exploration of what lies beneath the façade of respectability, how family secrets fester, how the past is never truly buried, with postwar Southern California as his dark canvas.
Macdonald's prose has echoes of Hammett and Chandler, just as later writers' works echo his own:
"A bowl full of floating begonias sat on the desk in front of [the receptionist]. Audubon prints picked up the colors and tossed them discreetly around the oak walls.... A Harvard chair stood casually in the corner. I sat down on it, in the interests of self-improvement, and picked up a fresh copy of the Wall Street Journal."
But for me and other fans, Macdonald is sui generis, and I hope the Library of America plans further volumes. --Marilyn Dahl, editor, Shelf Awareness for Readers