Independent Bookstore Day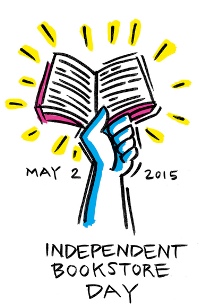 On May 2, some 400 independent bookstores nationwide will participate in the inaugural Independent Bookstore Day. Along with parties, author appearances and events, these stores will offer exclusive merchandise for the occasion, such as a literary tea towel set with quotes from Nora Ephron and Sherman Alexie; a signed print by Chris Ware; a boxed set (literally--a reusable tin) containing Shadow of the Wind, The Borrower, The Bookman's Tale and 84, Charing Cross Road; a Stephen King broadside from his new Finders Keepers; even a bunsie--a onesie with the "Guess How Much I Love to Read" bunny on the front.
Here's a sampling of the creative things stores have planned:
In New York City, more than 20 indies have banded together and will collectively publicize each other's events and activities, and are working on at least one joint event. Astoria Bookshop in Queens will have afternoon events for children and evening events for adults, including a book-based trivia game and cocktails. Greenlight Bookstore in Brooklyn will offer morning portrait drawings for kids, an afternoon literary photo booth with authors, and an evening party. In Hoboken, N.J., Little City Books will hold its grand opening celebration and ribbon-cutting ceremony.

In Decatur, Ga., Little Shop of Stories will throw a 10th anniversary "It Takes a Village to Raise a Bookstore" party. At the King's English Bookshop in Salt Lake City, Utah, there will be visiting authors, games, a Seuss-a-thon for children and a local food truck. San Francisco will have a day's worth of author events at Green Apple Books, epicenter of last year's California Bookstore Day, which was the impetus for Independent Bookstore Day. (This year the event will again be called California Bookstore Day in the Golden State.) At the Booksmith, there will be a Mad Hatter Tea Party, and the San Francisco Bike Coalition has organized a bike tour of the city's indies.
There's plenty more planned across the country--more information, and a complete list of all participating indies, is available here, and you can follow Independent Bookseller Day on Twitter and Facebook. --Alex Mutter