Ripped from the Shelves
You don't have to be a seasoned parent to understand that plucking a two-year-old out of their routine can be dangerous business. Not one to tangle with danger, I still decided--even though we were on vacation in Vermont instead of our regular Brooklyn stomping ground--to take my daughter to the bookstore.
These outings were mutually cherished. For her: freedom to wander untethered, to collect as many Berenstain Bears from the spinner rack as her hands could hold, to make piles of hardcover picture books on the bench of the window seat. For me: moments to gush because she loved books, to read while she snuggled in my lap, to be allowed to wander, alone, filling my own basket.
"This is not a buying trip," I said as we entered the foreign shop.
She pulled out a dazzling copy of Hansel & Gretel by Cynthia Rylant, placing it on her shins for optimum viewing. It was when the scared children reached the deepest part of the forest that I heard the rip. Her Tootsie Pop-sized eyes locked on mine; panic sizzled through us both.
This is not a buying trip.
Now what? Not a week earlier, I caught my daughter with a pack of Rain-Blo gum she'd pilfered from CVS and zipped up in her teeny parka. She was already heading for a rogue's life. I gathered the kid and the book and approached the cashier with the best Teachable Moment posture I had in my arsenal. Had this been our beloved Bookcourt, I'd have laughed it off with the genial staff. But we were in alien territory, and the lady at the cash register had a grumpy face.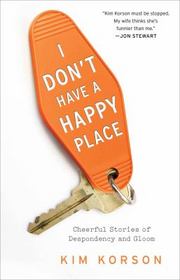 We left the store with that gorgeous copy of Hansel & Gretel in one hand (15% off for our trouble), lessons of honesty and bravery and forgiveness in the other. That well-loved ripped copy still stands on my daughter's shelves. It's lovely. -- Kim Korson
Kim Korson is the author of I Don't Have a Happy Place: Cheerful Stories of Despondency and Gloom (Gallery Books, April 14, 2015)