Jennifer Teege and Her Grandfather
This past Wednesday, two days after Nobel Prize winner Günter Grass, author of The Tin Drum and other modern classics, died, a book was published by an author unknown in the U.S. that deals with many of the same difficult, moral subjects that Grass addressed.

In 2008, at age 38, Jennifer Teege, the child of a German mother and Nigerian father, later adopted by a German family, discovered that her grandfather was Amon Goeth, the infamous Plaszow concentration camp commandant portrayed in Schindler's List--the man who liked to shoot prisoners from the balcony of his house overlooking the camp.

Teege remembered early visits with her biological mother and grandmother--Goeth's lover who lived with him at the camp--but she had had little contact with them after being adopted at age seven. Unaware of her biological family's past, she grew up, traveled, lived for a time in Israel, where she made close friends, married, had children--until at random she picked up a book in a library that was her biological mother's memoir of growing up the daughter of Amon Goeth.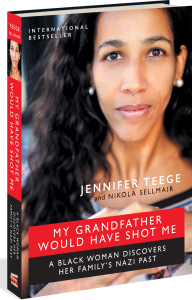 In My Grandfather Would Have Shot Me: A Black Woman Discovers Her Family's Nazi Past (The Experiment), Teege recounts her years-long struggle to come to terms with this awful personal legacy. She learned all she could about the period and her family. Full of shame and confused, for a time she was silent about it and suffered profound depression. She contacted her mother, who was still alive. She visited the Plaszow camp. She began to speak with her adopted family, with her friends in Germany, and eventually her Israeli friends. In occasional chapters, journalist Nikola Sellmair supplies historical and psychological perspective on Teege's difficult journey to know and understand her family story while creating her own identity.

Teege started a tour for the book on Wednesday. Check her schedule here to see if you can hear in person her amazing story of horror and reconciliation and love. --John Mutter