Go Set a Watchman Is Here!
Harper Lee's Go Set a Watchman was released worldwide today, and early reports indicate that customers have been flocking to stores to buy the book, many lured by midnight parties featuring discussions, read-a-thons of To Kill a Mockingbird and showings of the movie, among other events.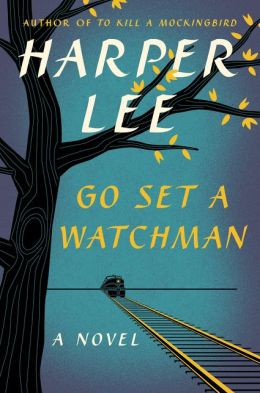 The carefully planned unveiling of the book was shaken up last Friday when several embargo-breaking reviews appeared. The biggest surprise from the reviews: in the new book, Atticus Finch, To Kill a Mockingbird's principled, wise, calm, inspired hero, is, as the New York Times put it, "an aging racist who has attended a Ku Klux Klan meeting, holds negative views about African-Americans and denounces desegregation efforts."

Reaction ranged from shock and disappointment to caution and reserved judgment to undiminished enthusiasm about getting to read another work by the author of a classic American novel--whatever the new book's approach--and a curiosity about comparing the two works and understanding how one led to the other. Some think the "new" Atticus is more realistic and might serve as a helpful springboard to discussions about race.
The reviews also led to renewed interest in the book's publication. As has been reported, when Lee submitted the manuscript of Go Set a Watchman, her editor, Tay Hohoff, suggested she rewrite the tale from Scout's point of view as a child. That rewrite became the iconic To Kill a Mockingbird. The original MS went unpublished, and it was only after Harper Lee's sister, Alice Lee--her literary guardian--died last year, that Go Set a Watchman's "discovery" and publication was announced. Harper Lee is 89 and in a nursing home--and many aren't convinced that she is capable of judging whether the book should be published or not.

Still, the book is out now, readers are excited, and the publication has become an international event that, at least, calls more attention to its deserving sibling. --John Mutter, editor-in-chief, Shelf Awareness