Misty Copeland: Trailblazer
Two weeks ago, Misty Copeland became the first female African American dancer to reach principal status in the American Ballet Theatre. To reach principal status is an amazing achievement. For a dancer who only began dancing at age 13, it is an extraordinary achievement. To reach principal status as the first female African American ballet dancer is to blaze the trail of a Firebird.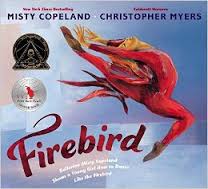 In her book for young people, The Firebird, Copeland explores the relationship between an accomplished dancer and an aspiring young dancer. The fledgling sees only "the space between you and me," as she watches a woman in a white tutu leap New York's East River in Caldecott Honor artist Christopher Myers's collage. Even while stationary, the adult dancer suggests grace and movement. "Darling child," the woman tells the young narrator, "don't you know you're just where I started before the fireworks of costume."
The Firebird received the 2015 Coretta Scott King Award for Illustration for Christopher Myers's artwork, and a 2015 Ezra Jack Keats New Writer Honor for Copeland's narrative. The dancer-author told the Los Angeles Times that The Firebird was inspired by one of her mentors, Raven Wilkinson, a former ballerina in the Ballet Russe, also an African American trailblazer.
Copeland came late to ballet compared to other dancers: she was 13. The narrator of her Firebird also looks more mature than most children who are beginning ballet school. Is Copeland speaking to her younger self, or to a child who, like her, is just starting her journey in ballet? Copeland told the Los Angeles Times that the two dancers in her book have "a similar relationship to the one that I have with Raven, that mentor-mentee relationship, except that I would be the mentor and it would be a young brown girl who's looking up to me." The adult and child end The Firebird with a lovely pas de deux in matching white tutus. --Jennifer M. Brown, children's editor, Shelf Awareness