The 'Queen of Suspense': Still Going Strong after 40 Years
August 15 marks the 40th anniversary of the release of Where Are the Children?, the breakout suspense novel by Mary Higgins Clark. The book, still in print, in its 75th paperback edition, features a woman who flees the devastating heartbreak of her first marriage and the horrid deaths of her two young children--along with shocking allegations brought against her. With a name change and her hair dyed red, the protagonist leaves her California life and relocates to the tranquility of Cape Cod. She starts her life over again--remarried, with two more beautiful children... until one morning, when the children go missing.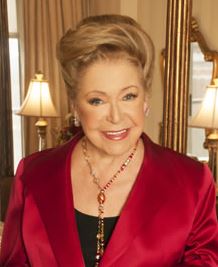 Mary Higgins Clark
In August of 1975, all six members of my family were riveted by and wore out our copy of the novel, personally autographed by the author, who lived only a few blocks away in our small New Jersey town. I don't think anyone in our suburb with only two stop lights could have conceived that Clark--a financially struggling widow with five children, who wrote at her kitchen table for two hours every day before work--would ever surpass the realm of local celebrity and emerge as the "Queen of Suspense," publishing in more than 50 books, which have sold some 100 million copies.
In the past year, Clark, a Grand Master and esteemed member of Mystery Writers of America, shared her "Game Night Chili" recipe in The Mystery Writers of America Cookbook, and she edited the anthology Manhattan Mayhem: New Crime Stories from Mystery Writers of America. Add to these titles a thriller, The Melody Lingers On, featuring a Bernie Madoff-like villain, and the continuing Under Suspicion series co-authored with Alafair Burke (daughter of crime writer James Lee Burke), and the 87-year-old Clark is showing no signs of waning in her productivity and passion for storytelling. --Kathleen Gerard, blogger at Reading Between the Lines